Click GO to Find
the BEST FARES!
Strategies For
Saving on Air Fare

#1 Search 'til You're Blue!

#2 Get to a Major US Airport

#3 Get to Europe and then Greece

#4 Queen Mary II-It's not as expensive as you think!
#5 Charter Flights
From The US
#6 Charter Flights From Europe
Putting the Strategies Together:
A Case Study

Finding Discount Air Step by Step
Is A Charter Flight
Right For You?
If Movie Theaters were
run like Airlines!

Helpful Tips for
Planning your Trip to Greece
Connecting to Athens
From the Islands?
Getting from the Airport to Athens
(or to the Ferries)
Seaplanes to The Greek Islands
Why is it so Expensive
to Fly to Greece?
Great Web Sites
That have to do with
Flights and Travel
Rail Passes
Europe By Rail

How The Globe Merchant
finds His Own Tickets
A Quick Guide to the
Advantages & Disadvantages of Airlines
Olympic Airlines Routes
Greece Europe World
Should I Worry about My Airline Going out of Business?
Protecting My Holiday
with Travel Insurance
Discounted Flights
within Europe

Find Low Air Fares
About GreeceFlights

References

International
Travel Link Directory

Links

Getting from Athens Eleftherios Venezelos Airport to Athens-Taxi
If you walk out the door, you can't miss them! There will be a long line of yellow cabs up or down the terminal, depending on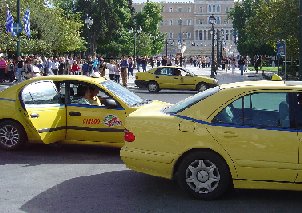 which door you exited. Next to the taxis will be a line of people (sometimes longer than others, but it moves fast). There is a director, calling the cabs forward as needed. The driver will load your bags in the back and then take you on your way.
There are cases of being overcharged, but it happens less with cabs from the airport since they are more easily traced(than if you hail a cab on the street in Athens). The fare should be around 25 euro depending on the number of people, bags and where you want to go. If you ask for a reciept and make sure that he puts his taxi registration number on it you can be pretty sure that he'll be honest.
It's about a 30-60 minute ride to Athens depending on the traffic and about 30 minutes to Lavrion(if you're chartering a yacht or going to Kea). For the first 1/3 of the trip you'll be on the highway cruising through the olive groves(or what used to be the olive groves, but now is getting built up with houses, shops and apartments). Then you'll go through the pass between Mts Hymettos and Pendeli and drive just above the base of Mt. Hymettos. As you come around the bend you will have a great view of Athens as you drive above the skyline. This part of the journey will be fastgoing and you'll think "ah... we made it without hitting any traffic".
When you make that first right turn off the highway, there's a good chance that things will change. Once you descend upon the city, the traffic begins.... and it can be slow going... but it will give you the chance to look closely at the buildings, shops, people and landscape.... and as you're slowly winding your way through Athens it will suddenly dawn on you..."I'm finally in Greece!"
I love the first taxi ride into Athens, but on occassion I've had drivers who smoke or drive a little too wild for my liking. If you want a known entity, you may want to look into hiring George, The Famous Greek Taxi Driver.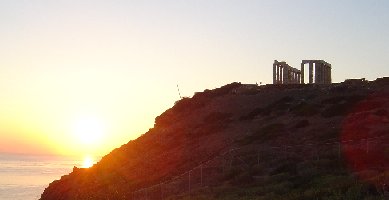 Sunset at theTemple of Poseidon
If you're going to Pireaus to catch the ferry to an island you have the option of taking the taxi through Athens or taking a longer and slightly more expensive route which would be on the highway along the sea. It's a scenic view and about half way there you will pass the Temple of Poseidon at Sounion perched on the cliff overlooking the Aegean.
1.Taxi
2.Metro
3. Bus
4. George, The Famous Taxi Driver
(or friends of George, The Famous Taxi Driver, if George is busy)